EaseMyBill APPLICATION
---
It is a fully integrated toolkit to manage your daily business activities like Invoicing and Billing, Manage Sales, Create & Send Quotes, Estimates, Purchase Orders, Invoices in PDF.
SOFTWARE FEATURES
---
Quotes/Estimates Make an impression

---

It's super simple to look professional with customizable quotes and estimates that reflect your business brand.

Reports Graphical & meaningful

---

Focus in on the details of your business with over exclusive built-in reports. Quickly see your billing history over any time period in just a few clicks. You can easily sort by client, date or invoice status.

Purchase/Payment Get Paid Online

---

Start collecting money from the moment you sign up with EaseMyBill. Clients can pay you directly from your invoice – even from their mobile device.

Save hours creating invoices Save your Money

---

Our quick & easy billing system allows you to bypass the hours spent designing invoices, we do it all for you in seconds.

Trustworthy, safe and secure safe and secure

---

We are trusted by thousands of users all over the world and secured with a Positive SSL certificate from a trusted brand.
TimeSheet Never Miss a Billable Minute

---

With EaseMyBill, it's easy to create detailed invoices from your billable hours. Simply review, send, and get paid faster.

Invoices Get paid faster

---

Creating and sending online invoices are about as fast as point, click, done. The faster you invoice, the quicker you get paid, and the sooner you can buy something new.

Manage all your clients in one place Manage your contacts

---

Upload your clients details and track how much they owe you in one central location which you can access from anywhere.

Send invoices on-the-go Send faster

---

Access your invoices through a mobile device with our iPhone, iPad and Android friendly platform.

Accounting Make it easy

---

Mathematically challenged? With accounting and invoicing this simple, getting it done right is easy. EaseMyBill online accounting software makes it easy to understand and eliminates unnecessary steps that slow you down.
Accessible Anywhere
---
Load up EaseMyBill on the go, at the office, or at home. Supported on all your favourite devices.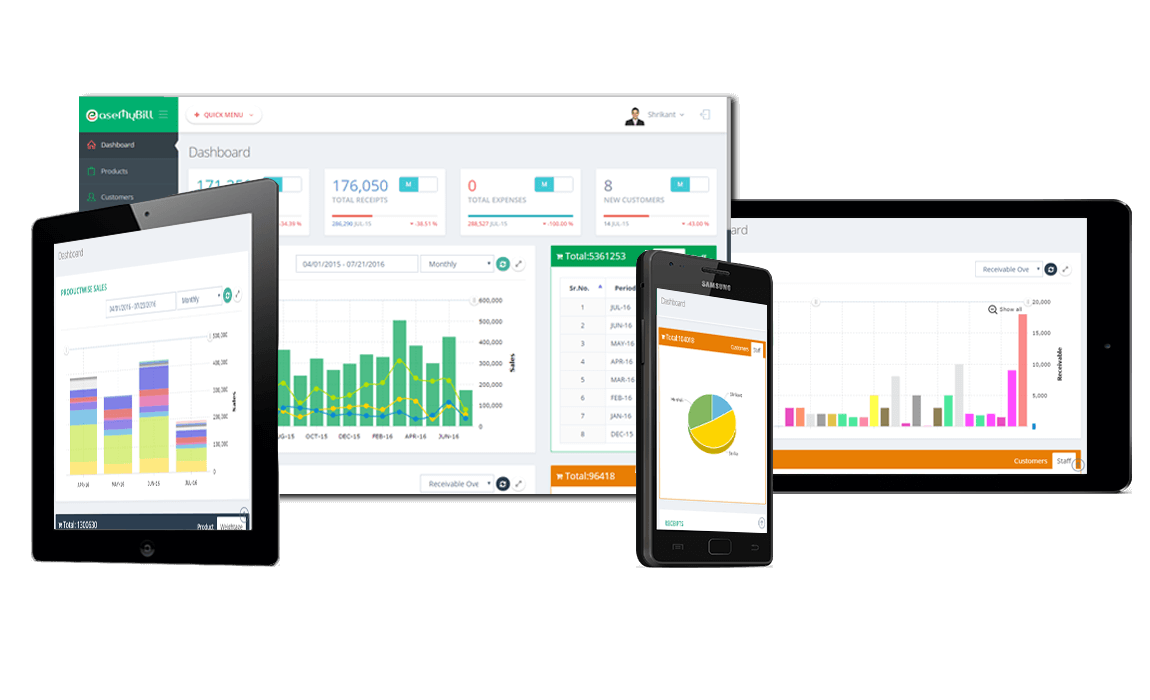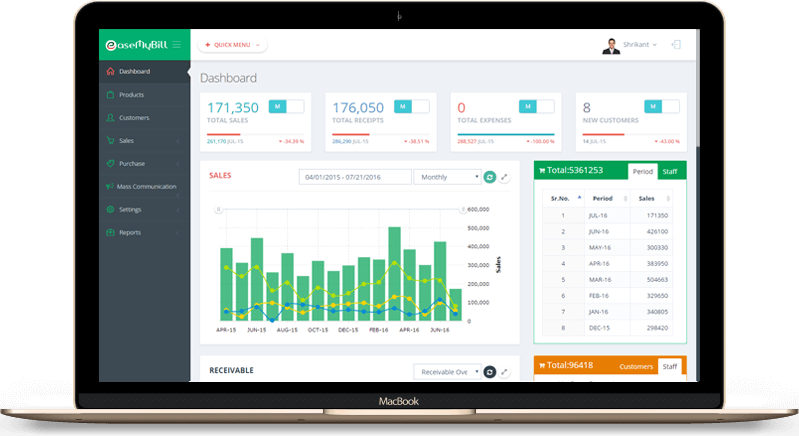 Sales Chart & Analysis

Receivable Chart & Analysis

Receipts Chart & Analysis

Productwise Sales Chart & Analysis

Cash Flow Chart & Analysis
Lead & Follow up

Comprehensive and effective sales lead & follow-up is a simple concept that every Business can take to build their prospect pipelines and grow sales without increasing headcount.

Invoice

The EaseMyBill tool helps sales staff to create invoices in minute with discount, taxes and invoice due date. Takes less than a minute to create and email the invoice.

Order Booking

It provides the ability to perform order booking functionalities including Sale, Sale Order, Sale Return, Receipt, Purchase, Purchase order, Purchase Return, and more in one place.

Recurring Invoice

Recurring invoices are invoices that are create to bill your customers are regular interval.

Receipt

We are trying to provide you the unique tool which will ease your billing work and create a smart impression of your company.

Other Income

You can manage the transactions which is not involved in daily operations of business e.g. rent received from other business etc.

Quotation

Forget hashing together estimates & quotations in your word processor. EaseMyBill generates estimates that are a pleasure to read, and accept ! The EaseMyBill tool helps sales staff to create Estimates and Quotation in minute with discount, taxes.
Expenses

The EaseMyBill tool helps to track your daily business expenses. It will bring clear visibility into your company's spending.

Purchase Order

EaseMyBill makes it easy for people to manage purchase orders online and for companies to get control over their spending.

Purchase

An easier way for managing your business. it also organizes your customers, sales leads, purchase orders, estimates and invoices.

Payment

EaseMyBill helps you see all your accounts at one place, understand where your money goes, reduce unwanted spending, and save for future goals.
Vendor

EaseMyBill manage all your vendor information, such as contact information, email id, contact numbers.

Account

Increase financial close efficiency and reduce back-office costs with standardized processes using a single, integrated solution.

Tax Setup

If you have a tax which is added to every order without any complex rules, EaseMyBill application is easily handle with tax setup.

Payment Mode

You can set your payment modes for your every transaction such as credit/debit card, net banking.

Lead Source

You can create the source for your extra information like advertisement, newspaper etc.

Preferences

You can manage the settings of discount & extra additional information for quotation & invoice.

Lead Status

After you set a Lead status, you can quickly change views in the Leads tab to only see Leads marked with a specific status.

Company Profile

you can add & mange your own company details. It helps to collect the information about total leads & customers.

Role Management

The role management eases the task of managing roles and performing role-based authorization in your EaseMyBill application.

User management

Each user has certain settings such as login actions as well as assign to roles & permissions.

City

If you have an online payments arrangement with your bank, you can have the City set up as a beneficiary of your bank account.

Product Group

With the help of EaseMyBill application you can create the groups as your products, manage your customer's details.

Items

EaseMyBill application is easily handle & manage the product details of your company.

Terms & Condition

EaseMyBill helps to make own terms & conditions for your software.
Collection

Collection report manage the total collection of your organization.

Product Sale

This report is show your product wise total sale of your organization.

Expenses

This report is showing total expenses of your organization.

Receivable

This report is show lists unpaid customer invoices and unused credit memos by date ranges.

Email Outbox

This report is explain your about your sent mails i.e delivery status sent time etc.

Receipt

Use this report to print purchase receipts. You can print all or specific purchase receipts.

Receivable due

This report is gives you the information abou list of unpaid customer invoice by the date ranges.

Sales

This report is show total sales amount of your organization.

Lead Followup

After generating a sales lead, you must effectively follow up on it.This report is give the information about follow ups. It helps to increase your overall sales volume.
WHAT WE OFFERS
---
Online accounting software made to simplify life for small business owners.
Expenses

Manage business expenses anytime, anywhere, any device.

Quotation

It is makes simple and professional quotes on one click.

Purchase

Manage your outgoings and track purchase orders against job costing.

Invoice

Efficient, accurate invoice process saves your time.

Lead Follow up

Manage lead & follow up activity & see what your sales team have to been up to.

Receipt

More easily manage your receipts for expenses reports.
Application Tour
We have put together the best of our experience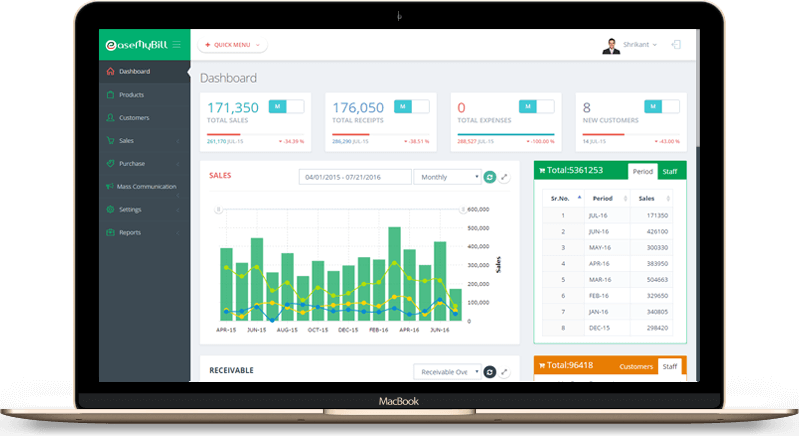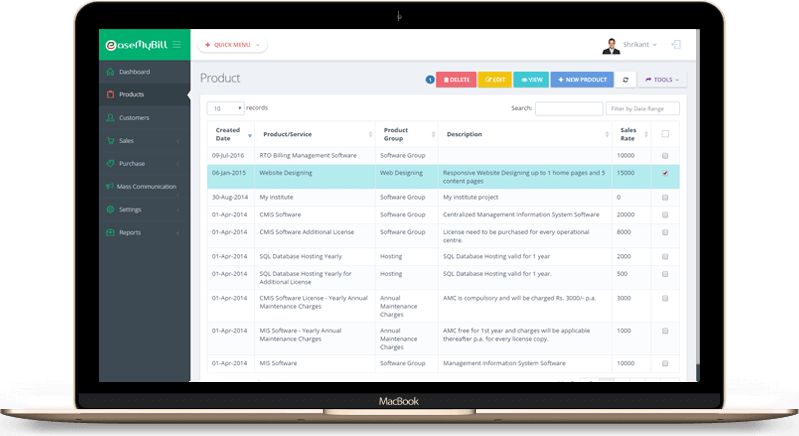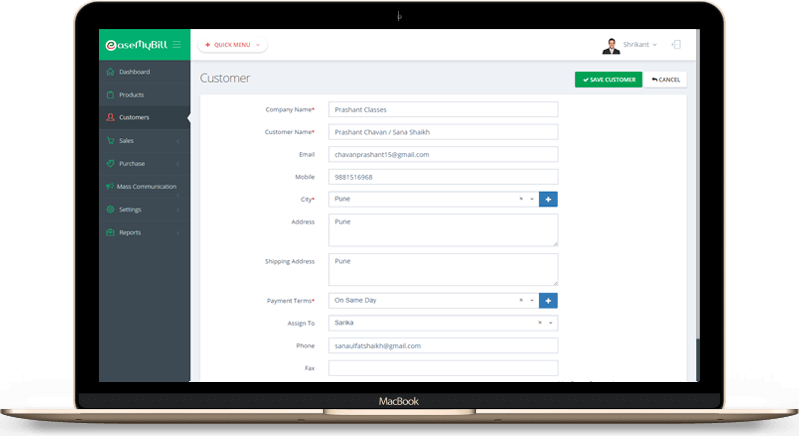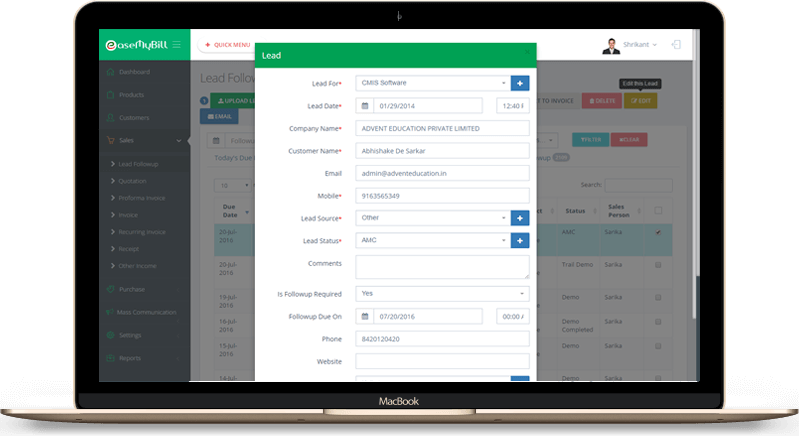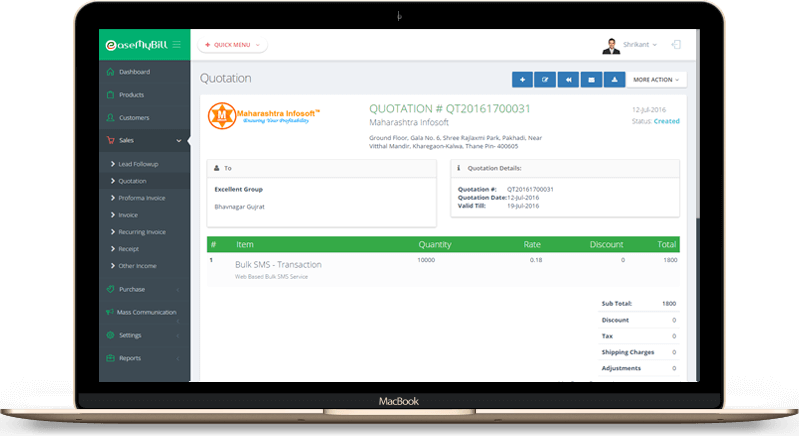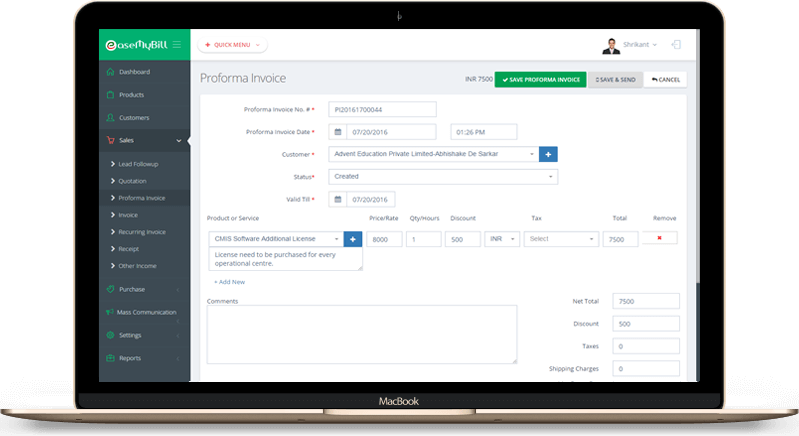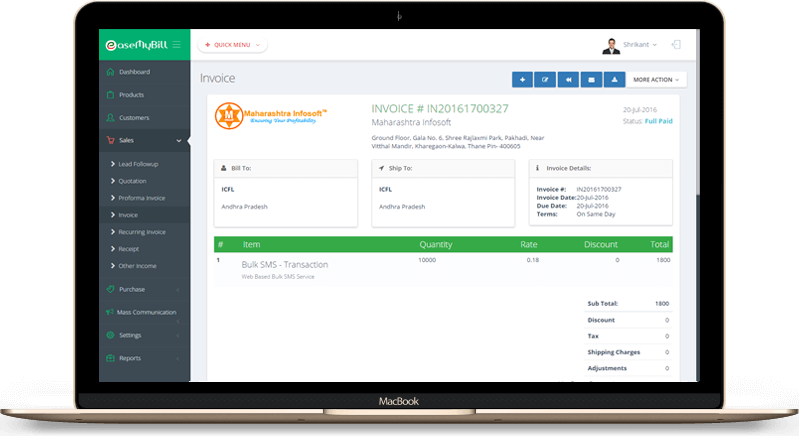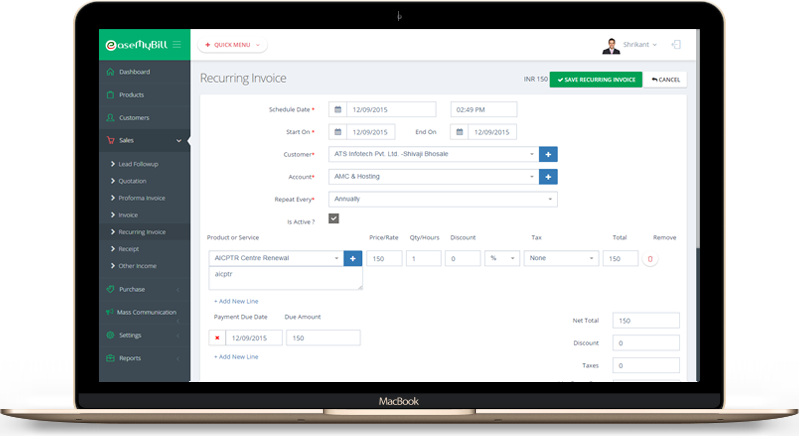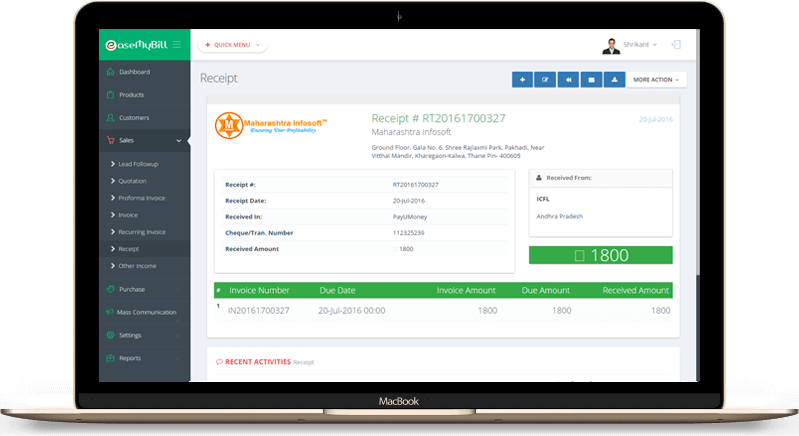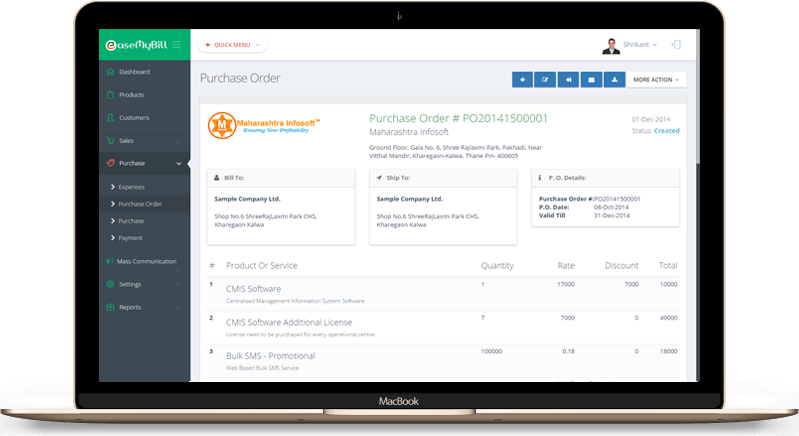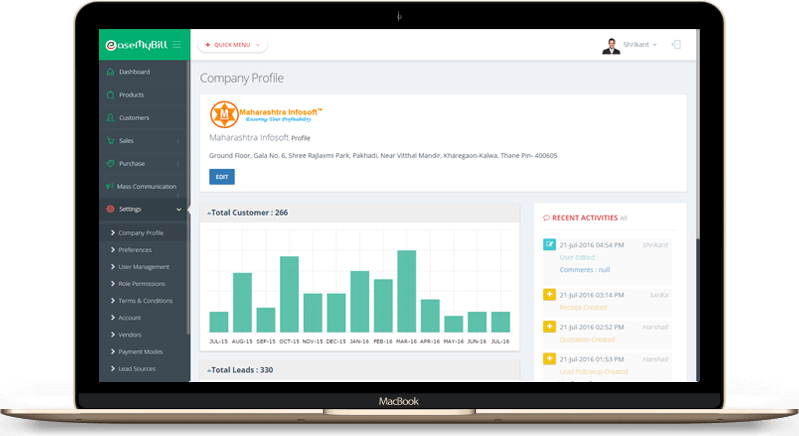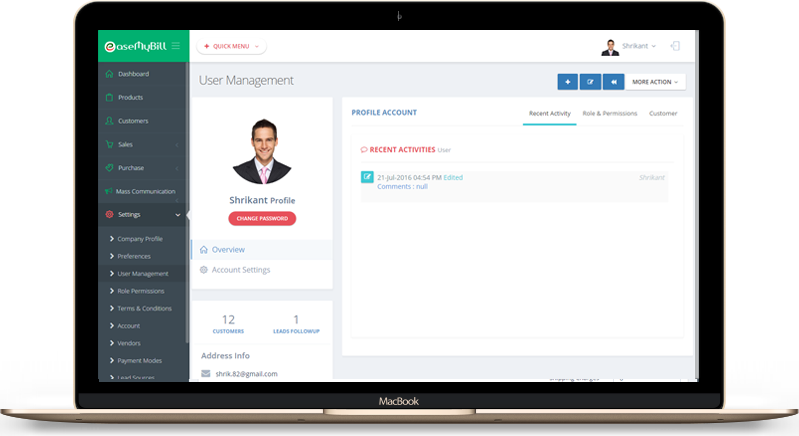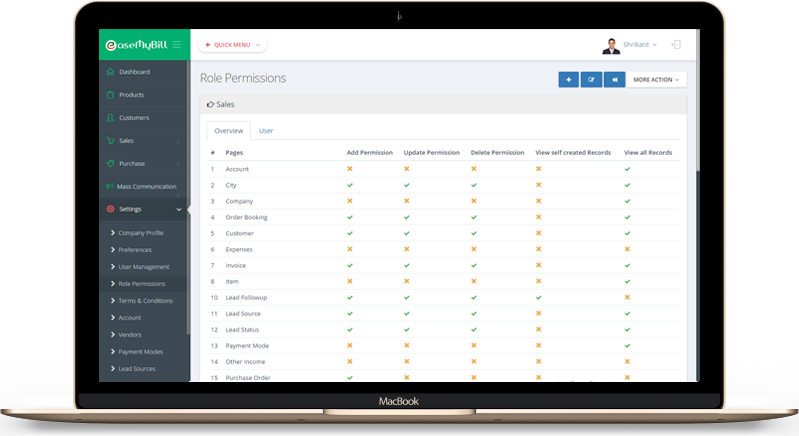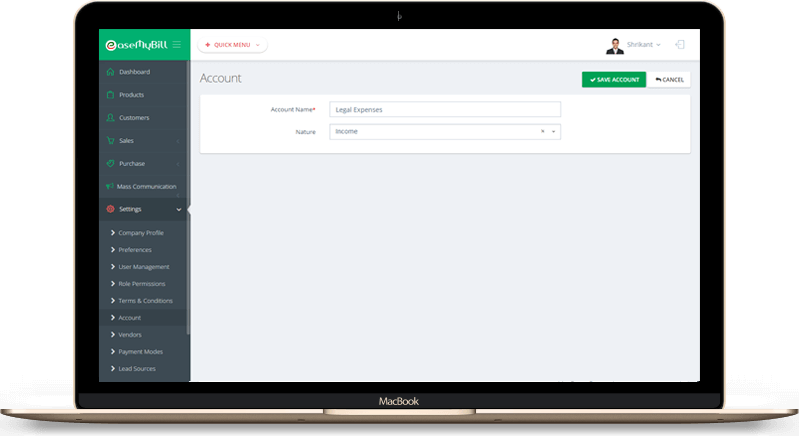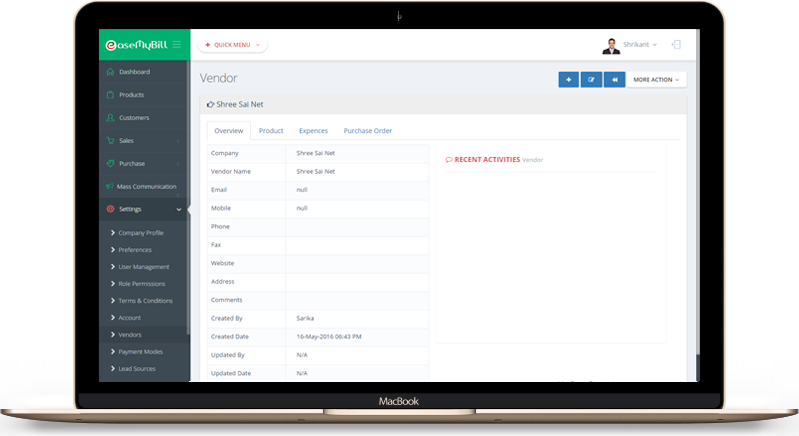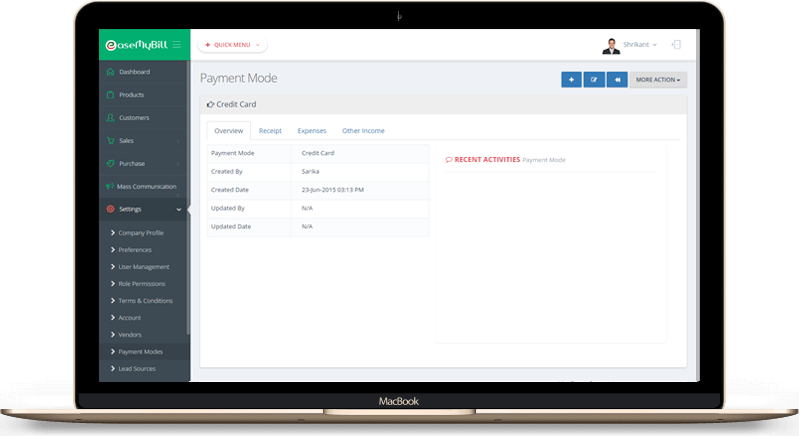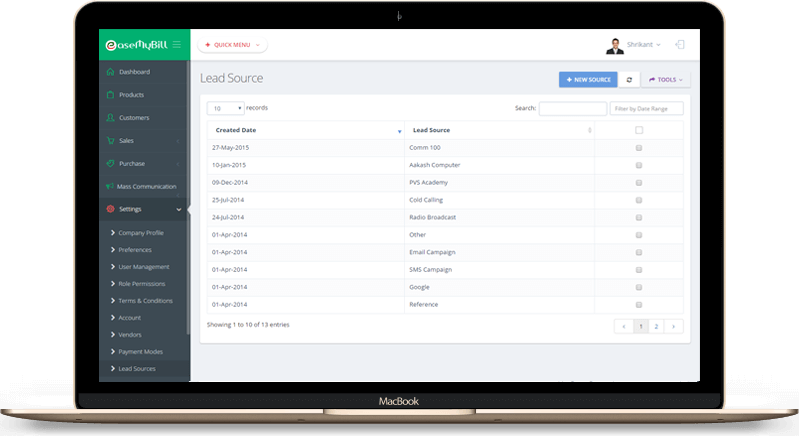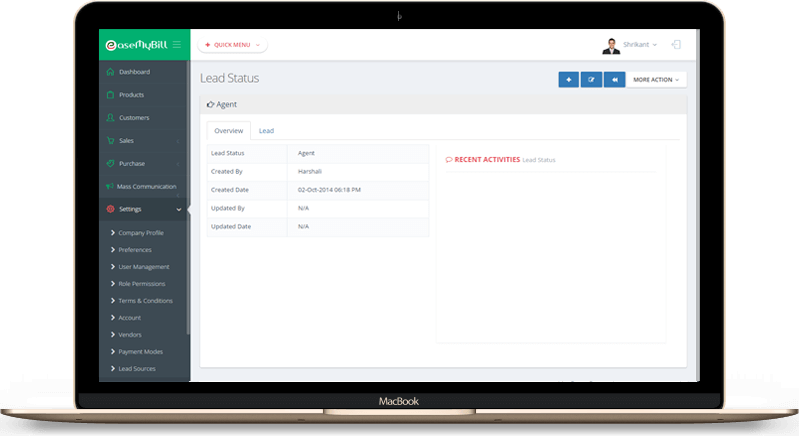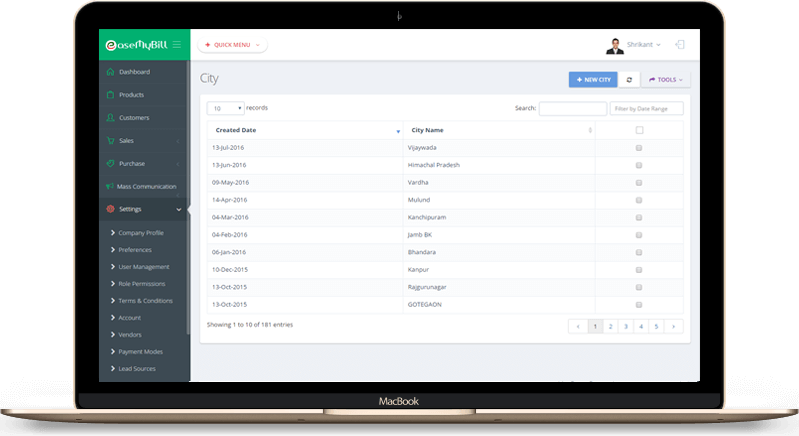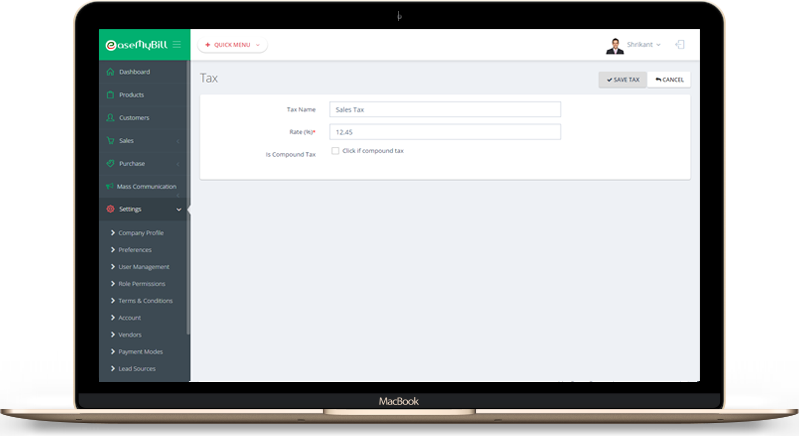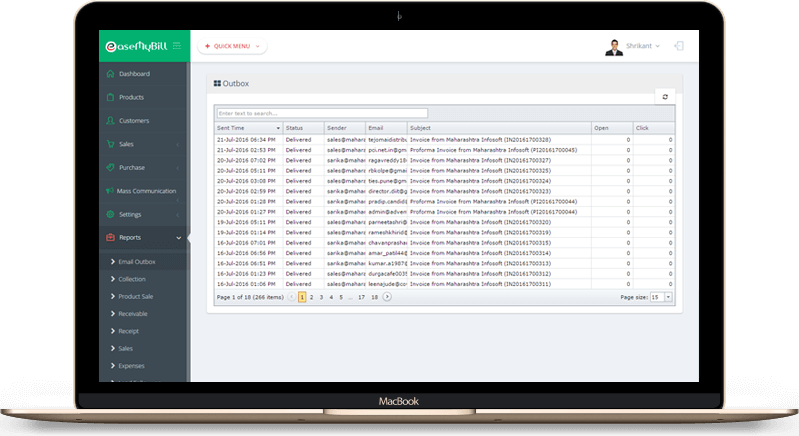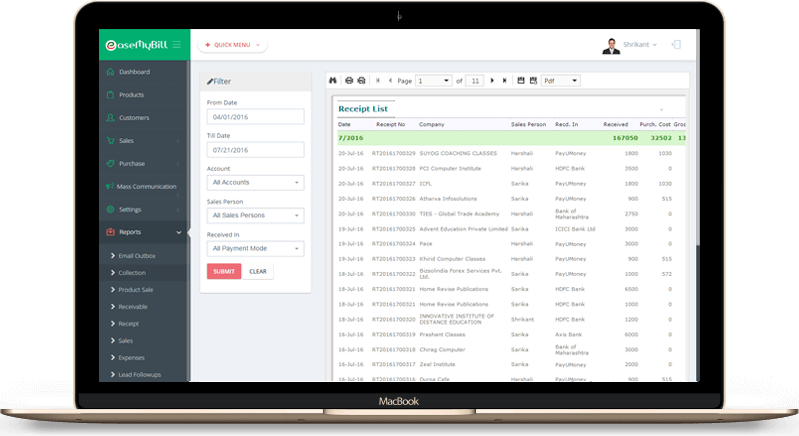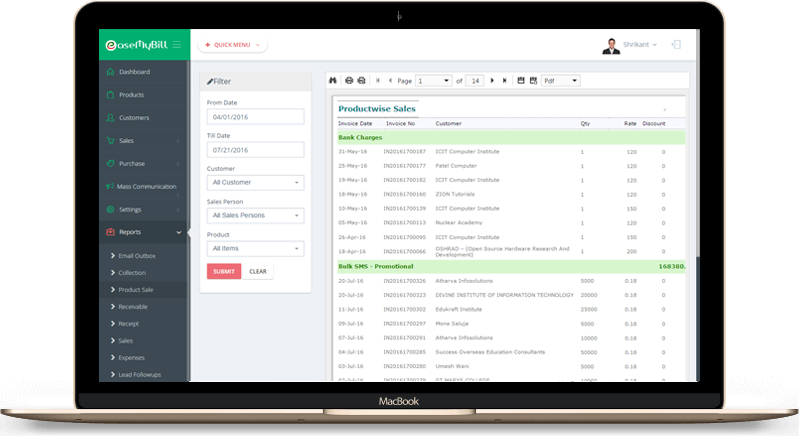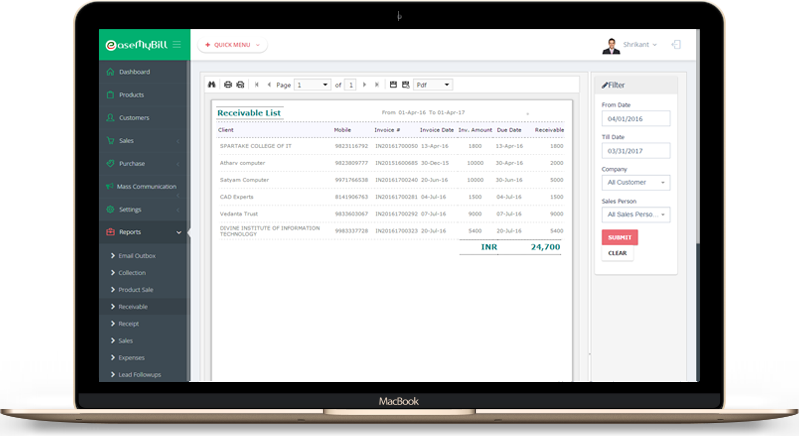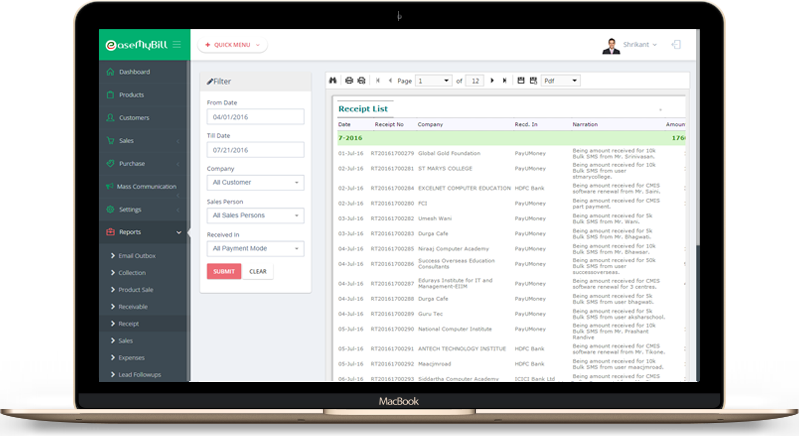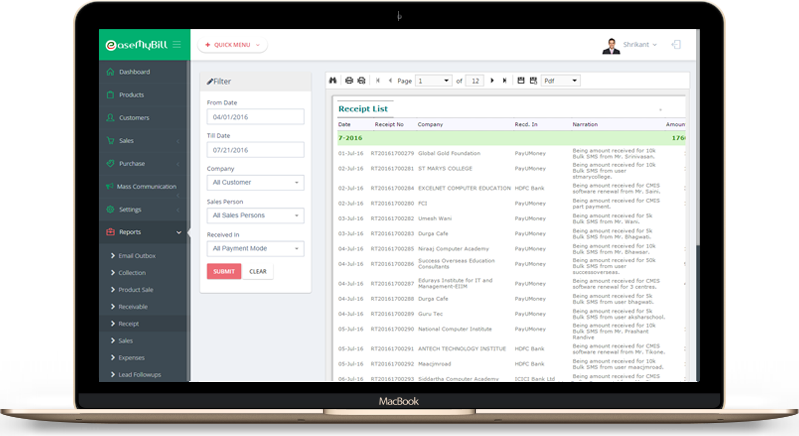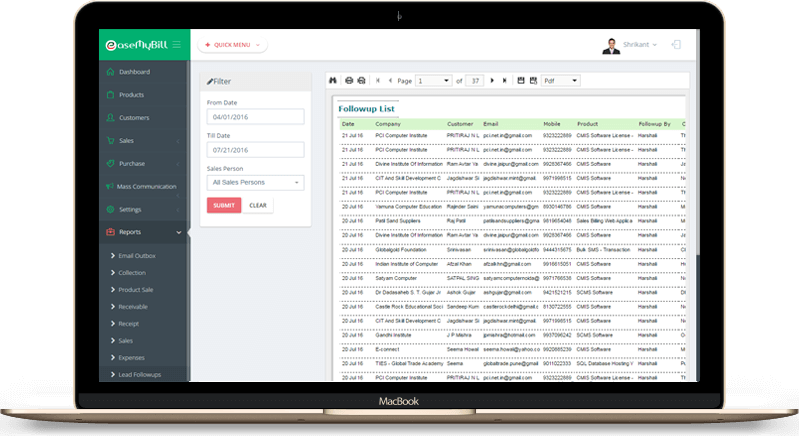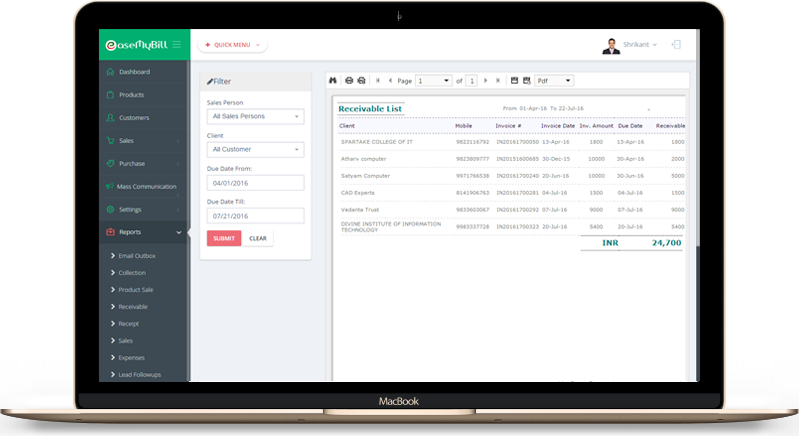 Frequently Asked Questions
---